Linda Caballero, a.k.a. INDIA, made her debut on a collaborative venture with five times Grammy winner, superb pianist Eddie Palmieri. Her debut album is called Llegó la India Via Eddie Palmieri . It is still one of my favorites.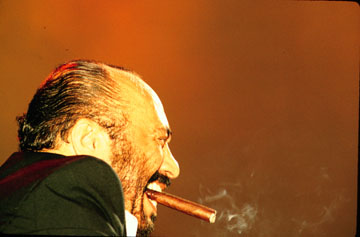 Via Eddie Palmieri 's musical genius shines through together with his brand of swinging salsa BRAVA! India is now heading her own band, which is under the musical direction of Luisito Quintero. Quintero, timbales player, previously played with the great sonero Oscar D'Leon, from Venezuela. Luisito is from Venezuela as well. We have sone old photos of Luisito from his days with the Oscar D'Leon Orchestra.
Recently India sang a tune with "El Leon de la Salsa" which has been well-received. She has also recently teamed up with legendary Celia Cruz and Tito Puente.