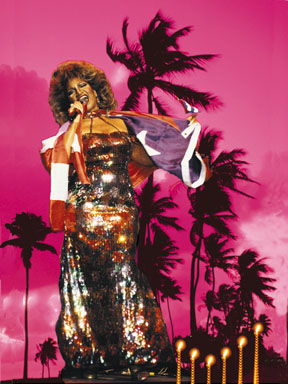 The popular music of the Caribbean has blurred boundaries betweennations and has narrowed the gap between social classes. Aside from the Spanish language, Afro-Antillean music has been the single most unifying element of the Hispanic culture.

Popular culture has transcended its low status and has entered the world of high art. Through our music, we recover our mythological continuum. Mere mortals, our musical idols become subjects of adoration. Past and present converge.

My image of Celia captures a moment of the musical spectacle, evocative of the sensorial experience. The golden candles glorify the musical deity. The coconut palm trees dance in another time and space. Reality and timelessness unite. The cycle of life continues...