De tal palo, tal astilla --a chip off the old block. This old adage truly goes to the root of Sony Discos, Inc's newest rising star, Trina Medina. The tree-Canelita; her intimate and consummate fruit-Trina. Fortified by her mother Canelita's musical legacy, Trina Medina belongs to a new generation of female musicians whose authority cannot be undermined. She paints an imposing image on the bandstand strumming the güiro and swaying in a Caribbean cadence while belting out her tunes.
This attractive Venezuelan mulatta struts across the stage and works her audience with genuine fervor. Meeting creativity head on, she whips her musicians into shape by challenging their musicianship. In pursuit of that ever fleeting moment of creative ecstasy, she lets loose, shamelessly drenched in well earned beads of sweat that stream down her brow to her limbs. As her enthusiasm spreads, an aura of bliss sparks the air.
But mindful of a golden opportunity that once slipped through her mother's hands, Trina is determined to make the right moves. In true salsa tradition, she is paying her respects to the salsa capitals of the world: New York and Puerto Rico. Trina is taking a stab at international fame.
The Tree-Canela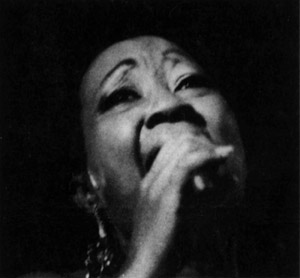 On March 6, 1939 in La Guaira, Venezuela, Trina's talented mom was born Rogelia Medina. Her love for singing was innate. She could barely walk when she started crooning to her little friends at doll parties. But her musical career took off in much the same way as Celia Cruz's. Cheered on by her girlfriends, she enrolled in a radio contest. The accompanying band, the well-known Sonora Caracas, immediately signed a pubescent fifteen year old Rogelia as the band's lead singer. Her stage name-Canelita .
Inspired by Celia's flavorful renditions and rhythmic approach, Canelita initiated her career singing Celia Cruz repertoire. Imagine Canelita's chagrin when Salsa Goddess Celia Cruz showed up to perform during a carnival in La Guaira. Since she didn't think she could sing Celia songs better than Celia, Canelita sat this carnival out. The following year, the wiser youngster came in with a whole new repertoire and her own unique style.
A Date With Fania
During her stint with Las Estrellas de La Guaira, Canelita met salsa legend Johnny Pacheco. Johnny recalls a hot, breezy day in La Guaira, "The band had the same instrumentation as the Fania All Stars and they asked me to take the baton. They had arranged some of Celia Cruz's numbers, like Toro Mata and Quimbara. When Canelita started to sing, she shocked the hell out of me. She has that timbre like Celia. That powerful voice. She had that flavor that I like. Soneando [improvising] she did a hell of a job. She sounded terrific. I figured this was something I could add to El Tumbao [Pacheco's group]."
Canelita recalls, "When Pacheco approached me, he sounded very interested. He asked me if I wanted to record an album with him." Thrilled at the honor, she put Johnny in touch with the record label. Canelita's hopes vanished when label brass informed her that until her contract expired, she could not record for another company.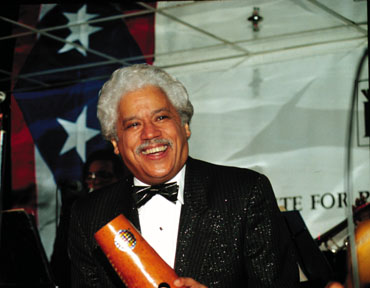 To this day Pacheco remembers his apprehension when label execs explained, "They told me Canelita's husband was very jealous, had a bad temper and he would not permit her to leave Venezuela. So I immediately gave up on the project." The truth is Canelita had been separated from her husband for years. Canelita's record label denied her permission fearing she would jump ship. This resulted in Canelita losing an important chance to record in New York with Fania legend Johnny Pacheco. "That opportunity slipped through my hands," laments Canelita.
Nevertheless, Canelita's talent has been showcased in many venues. Her musical career has spanned over forty years. From Sonora Caracas, which was the first conjunto in Venezuela, she passed through some of Venezuela's top bands: Los Megatones de Lucho, Los Caribes de Piñero, Las Estrellas Latinas de La Guaira, Federico y Su Combo. She has always been signed on a label.
Although she is barely known in New York or the US, Canelita has recorded 29 albums to date. Her voice is in tip-top shape and she performs tunes she recorded twenty years ago-in the same pitch. But her star did not shine without obstacles. So when daughter Trina opted for a singing career, Canelita imposed certain ground rules: A career to fall back on and a formal musical education.
When Canelita started out as a singer in the fifties, a good voice was all she needed-intuition and practical experience sufficed. "I don't have any musical studies, not even voice training. I learned everything on the bandstand. Because of that, it was very difficult for me to compete with the studied musicians-to get signed as a solo artist. It took me 10 years of hard work on the bandstand." Her meager wages afforded Canelita and tiny Trina hand-to-mouth existence. "Those are the things I didn't want my daughter to go through. That's why I advised Trina to study." Fortunately, Canelita's sermons found a willing disciple in Trina.
A Star Is Born
The daughter's contralto voice is full, with a good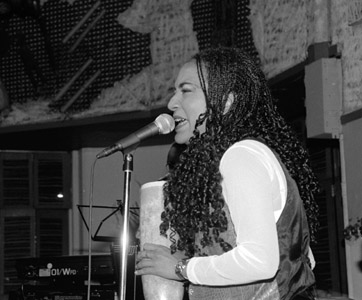 strong chest quality, with a little edge, just enough to give it that popular salsa sound. Possessing the rich full voice quality of the older Celia Cruz, Trina's voice also holds a strong family resemblance with her talented sonera mother. Her voice is a more refined version of her mother's-naturally. In essence, she harbors the breath of her mother's existence and echoes a privileged musical legacy.
In 1989, Trina started touring as backup singer with Venezuelan Caribbean pop singer/songwriter Yordano. She gained invaluable experience singing in venues of over 60,000 people. But Yordano knew Trina wanted to be a lead singer and saw her potential. In 1993, Trina Medina packed her bags and headed to New York in search of her destiny.
On that trip, she recorded a demo, but it wasn't till one of her last trips with Yordano to Puerto Rico that she struck gold. On that occasion, instead of returning to Venezuela, Trina decided to linger in Puerto Rico for an extra ten days. Calling on her friend, famed composer Tite Curet Alonzo, she received an invite to a party that would change her life. Tite escorted her to Luis Enrique's record release party. As the party warmed up, in good salsa tradition, a descarga ensued.
Tite Curet and fellow conspirators prompted Luis Enrique to coax Trina up on stage. A spellbound audience unwittingly witnessed Trina Medina's audition before SDI top brass. The record label execs were impressed and once Trina stepped down off the stage, they surrounded her with offers. Delaying her departure another two days, Trina nailed a contract with SDI. Her eponymous debut album has sold over 20,000 to date, very encouraging numbers for a first release.
More than prepared for her musical journey, Ms. Medina posted nine years at the conservatory. Adding to her arsenal, she studied classical harmony, singing, composing, arranging, piano accompaniment. She also plays electric bass, percussion (maracas, güiro, chekeres) and does arranging for Venezuelan groups.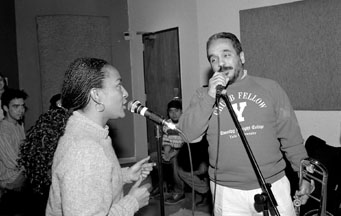 Since her Sony debut, Trina has kept busy. The soundtrack for the film I Like It Like That includes Trina's rendition of Anda Y Camina. The winter of 1996 saw Trina rehearsing Usted Abusó with Willie Colon at Montana Studios in New York City in preparation for a charity event in Philadelphia. During the rehearsal, it was plain to see that Willie approved of her rendition. Once again, Celia Cruz's repertoire finds a voice in the Medina family.
What Drives Trina Medina?
A second generation musician, Trina Medina was born in Caracas, Venezuela on February 28. Her father, pianist Alfredo Sojo, passed away in 1992. Her mother, who raised her all alone, has been her greatest influence. Because of her, Trina studied business and industrial relations. Because of her, Trina went to the conservatory. Because of her, Trina sings. Trina is disciplined, persistent and talented. Now she wants to convince her audience that she's for real.
"When I decided on a singing career, I made up my mind I would be Trina Medina. I've been surrounded by music all my life, so I feel right at home when I'm making music. On stage, I don't strike fake poses. I'm spontaneous. When I'm up on the bandstand, I feel so good that I don't care if I wrinkle my face. In other words, I am me."
With lots of musical ideas waiting to develop, this starlet is praying for artistic leeway. Her first release is rooted in the Cuban son. Her second release is slated to be another salsa album. But Trina also likes to sing tropical music, which ventures into calypso, encompases cumbia as well as pop, and can include the Colombian vallenato. Newer trends in salsa seem to favor an amalgamation.
Some of salsa's second generation musicians are finding it impossible to duck the huge shadows cast by their talented progenitors. Andy Montañez, Oscar D'Leon, Pete El Conde Rodriguez, Machito, Tito Rodriguez, Tito Puente, Ismael Rivera. Tough shoes to fill, tough act to follow. But Trina is a natural. She has inherited the extraordinary qualities of her mother's voice and coupled with her musical studies, she has parlayed her inheritance into an international forum. Lucky for Trina Medina, she's just a chip off the old block--De tal palo, tal astilla ..
Note: Our dream is to see, on the same stage, Trina performing with Canelita, Celia Cruz and a few other powerful soneras. The strength of the female voice is begging to be heard.