And the Grammy for Best Latin Jazz Performance of the Year goes to Paquito D'Rivera. Sweet words in return for years of hard work. After all, the Grammy carries a prestige unmatched by any other music industry award. With my point 'n shoot camera purchased for the occasion, I dash towards the stage to capture a frozen moment of glorified time. Paquito makes his way swiftly onto the stage, accepts his Grammy and proceeds to give his thanks. Just as he was about to praise Carlos Franzetti, the talented arranger of Portraits of Cuba, a Vanna White-like spokesperson hooks Paquito's elbow and scoots him off the stage.
That was it. His fifteen seconds were over. He didn't get to thank his buddy Franzetti, his wife Brenda, the label Chesky Records, nor the engineer, Bob Katz. All he needed was another fifteen seconds. But before he knew it, he was off the stage. Time was awastin' and the telecast with its millions of viewers and millions of sponsor dollars was taking precedence.
The Grammys hold two awards ceremonies: First the pre-telecast. You may read about it, but few pre-tel artists are mentioned in the popular press. Then there's the Telecast, which this year touted gender-bending DeGeneres and showcased the Midas talents of Springsteen, Chapman, Dion, Babyface, Beck and brain-shortcircuiting-smashing Pumpkins.
Paquito received his award at a pre-tel along with such company as First Lady Hillary Clinton, Bonnie Raitt and Pete Seger. Hillary's footage accepting the award was judged broadcast-worthy and did make the telecast. The Grammys were simulcast to 169 countries around the world, including all the Spanish-speaking countries and Europe where Latin jazz has conquered a wide audience, but this category failed to make it on primetime.
I interviewed Paquito about this situation: "The narrowest part of the rope are the Latin people. Blacks fought for the recognition of their talents. Now we have to do it. On the other hand, jazz is the music of minorities. There are no big sales, so I understand, if they have a limited amount of air time, they have to use it with the Smashing Pumpkins and those type of acts. They are more appealing to the mass audience."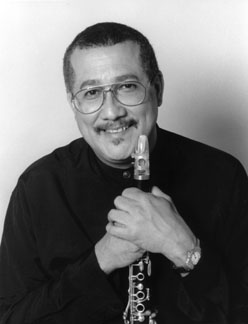 Mass audience or not, Paquito D'Rivera is a class act. Wowing his audiences since the tender age of six, Paquito has dedicated the better part of his life to perfecting his art and his craft. He is not only versed in the jazz idiom, but also in classical. This is his first Grammy for an album billed in his name. Formerly a member of Irakere, the Cuban group that won the 1979 Grammy for Best Latin Recording, Paquito shares Irakere's strange knack for switching from classical to jazz then to a swinging popular Cuban rhythm without exhibiting signs of schizophrenia. This versatility has broadened his audience and has enriched his life. In 1991, Paquito was musical director of Dizzy Gillespie's United Nations Orchestra when they won a Grammy for Live At The Royal Festival Hall.
The album that won the Grammy showcases many talents. Argentinean born pianist Carlos Franzetti composes and arranges classical and jazz. For Portraits of Cuba, he did all the arrangements, selected 80% of the material, handpicked the musicians, and conducted the session. When Carlos approached David Chesky with the idea for an orchestral album featuring Paquito, David loved the idea, but he is such a fan of Cuban music that he suggested they do an album totally dedicated to Cuban music. And who better to give the music of his homeland a jazzistic twist than Paquito, with the brilliant charts of Maestro Franzetti? David came up with the title, Portraits of Cuba. Paquito contributed his virtuosic playing and musicality. He inspired all the players with his contagious good vibe. You can identify a Paquito solo from a mile away-it's imbued with his personality.
Franzetti's perspective on the Grammy: "We are more than happy with the Grammy because we have all been in this for a long time. For an independent audiophile label like Chesky Records to receive a Grammy Award means that it was voted by people that listened to this album and liked it. The albums that competed against Portraits are reputable musicians."
I wondered if Franzetti felt he received his due recognition. "This album is a combination of talents. It's a tribute to all the musicians that played, to the sound, the engineer, the cover, the interview. The quality of the album was exceptional. The Grammy is at Paquito's house, not at mine. That is the way the record was billed, Paquito D'Rivera, Portraits of Cuba, arranged and conducted by Carlos Franzetti. I would have loved to have a Grammy here, but I'm perfectly happy with the results. After all, Portraits of Cuba wa s selected as the best Latin Jazz Performance and that involves everybody who did something on this album."
The Music
Within the rich legacy of the Cuban music, one of the challenges was to cover as much of the Cuban history as possible. From La Bella Cubana, which is over 100 years old to Portraits of Cuba, a Paquito composition. In order to showcase different aspects of Cuban music, Franzetti incorporated tunes that exemplified different rhythms such as the mambo, in Echale Salsita, to a bolero like Tu Mi Delirio and No Te Importe Saber. Carlos used the melodies as a vehicle for Paquito to depart into the jazz genre. The challenge was to present these tunes in a jazz format, providing ample space for Paquito to improvise, but respecting their melodies.
A jazz tribute to Cuban music: Many reviewers have made favorable comparisons between Portraits of Cuba and Sketches of Spain, the Miles Davis/Gil Evans classic album which adapted Joaquin Rodrigo's Concierto de Aranjuez for a jazz orchestra.
It's nice for Chesky Records to have produced an album that may become a musical and audiophile classic. In a society that glorifies popular culture, I wonder how Paquito feels. Paquito, who loves to travel, used the metaphor of the plane to describe the panoply of his fellow musicians: "How does it feel? It's better to have it than not to have it. A friend from Irakere was complaining, 'So many bad musicians on the plane. 'We can't do anything about them playing, but we can play too. If they are bad musicians and they get to the plane, we are good musicians. We have no reason not to get on the plane. So it's better to be on the plane than off the plane complaining. It's very nice to be on the plane, especially when there are some people that understand only the language of the awards. It's kind of tricky the way it works, but it's always better to have it than not to have it. That raised my price so that is fine. You can't pull the Smashing Pumpkins off the plane, but you can ride the plane with them."